The art of writing an engaging and useful critique of anything can be challenging, but I am going to give it a shot here for the second time (first was a book review, for which I am more specifically gifted to write about) with my first shoe/gear review. My intention in such reviews is to point out the standout qualities of the particular shoe or piece of gear, my specific dislikes, and give a final verdict on whether or not I would recommend it and under what circumstances.
The supreme irony of a barefoot runner reviewing shoes is not lost on me, by the way, but I can explain a bit about my personal shoe philosophy and perhaps frame this and all future reviews for my readers. I ascribe to the philosophy of "Shoes as Tools," as made popular by Jason Robillard, a very prominent figure in the barefoot/minimalist running movement. This philosophy is exactly what is sounds like: I use shoes as tools only when necessary for the conditions. If it's too rough, hot, or unpredictable for bare skin, I wear a foot covering so that I can enjoy the run. What fun would it be to hobble around on bloody or blistered stumps by the end of a run. I am not a glutton for punishment; therefore I wear shoes when they are called for. Also, tools, more often than not, have a specific intended purpose for which they are designed. A hammer is for whacking nails; a trail shoe is for running off road on less-than-even terrain. Make sense?
Without further adieu, I introduce to you the VIVOBAREFOOT Neo.
Fresh outta the box.
One quick word about the manufacturer: Terra Plana, parent company to VIVOBAREFOOT, has been producing shoes with a minimalist flavor since 2004 (according to their website). Essentially they created the modern minimalist shoe, and the company offers dozens of well designed, euro chic, zero-cushion, zero-heel-height shoes in athletic, casual, and formal styles. VIVOBAREFOOT is second only to Vibram's Fivefingers models in regard to being synonymous with minimal shoes. These guys are innovators and pack leaders, not followers. Each new product is focused on breaking new ground and pushing materials and philosophies alike to new heights. The only reason most Americans have never heard of Terra Plana or VIVOBAREFOOT is that until recently the majority of their shoe models cost $160. (Eep!) High style and innovation has its costs.
Enter the Neo, a follow up to the wildly popular Evo (a $160 minimalist marvel targeted directly at the barefoot running crowd). The Neo has much of the appeal of the Evo but with $40 knocked off the price tag. At $120, the Neo is still quite pricey as shoes go, but as if you keep reading you will see that you get quite a bit of minimalist awesomeness packed into these bad boys for your money. Disclosure: This pair of Neos were provided to me by VIVOBAREFOOT for free. Rest assured that despite the fact that all opinions are inherently biased, I will do my best to give an objective review of the Neos.
Initial Impressions
The Neo is a good looking shoe. As you can see, VIVOBAREFOOT sent me the black/yellow colorway. I don't wear much black when running, so it's difficult to match any of my running clothes with this particular coloration. I would likely have chosen the black/grey/red colorway if given a choice. The exterior of the shoe looks actually quite unextraordinary which may excite minimalist fans that hate the unwanted attention "toe shoes" tend to attract. The overall appearance reminds me a bit of a skate shoe – like old school Vans or Airwalks (before Payless started selling them). I like the overall appearance of the shoe, and it looks remarkably well made. The Neo takes the minimalist approach to style as well as construction which makes it perfect for wearing with blue jeans or shorts for kicking around Starbucks and going straight your running route. It's definitely my new favorite casual shoe. I like understated.
The tags speak of how Earth friendly VIVOBAREFOOT is a company and whatnot.
You can get a decent sense of the width of the toe box here. It's wiiiiide.
Awesome little baggies each shoe came individually wrapped in. Nice touch, TerraPlana.
First Fit
The first thing I noticed when I put the Neo on my foot was its width. Anyone who has worn traditional shoes all his or her life and then throws on a pair of VIVOBAREFOOT's offerings is in for shoe shock. This shoe is WIDE! I have long, narrow feet (although they have widened quite a bit since I started running barefoot), but I have come to expect good width in the toe box of a shoe in order to wear it comfortably. This shoe swallows my foot, but not in a bad way. At very first I felt like I was swimming in the Neo, but just walking around in them revealed that they were not floppy or oversized. The heel is wide as well making the shoe easy to put on and remove sockless or not. I love the sneaker-like heel collar (a rarity on minimalist shoes), too. Super comfy!
A small gripe: The lacing is a bit wonky, and I blame that on tow factors: the eyelets' spacing and construction. They're embroidered into the shoe which looks cool but impacts laces movement. The laces don't "glide" through them like they do nylon or other plastic eyelets meaning you have to tighten each portion of the foot separately - which may be a plus for some people. It is a minor annoyance for me. Also the tongue does not protrude far enough out of the top of the shoe so as to allow the laces to keep it from retracting (that's the best way I know to explain it). This causes some weirdness when trying to tie the shoe; you tie it up and stand up only to realize it's too tight or too loose on the top of your foot. These are very minor issues but something I think that VIVOBAREFOOT could improve upon in the next model. Overall fit of the shoe is spot on.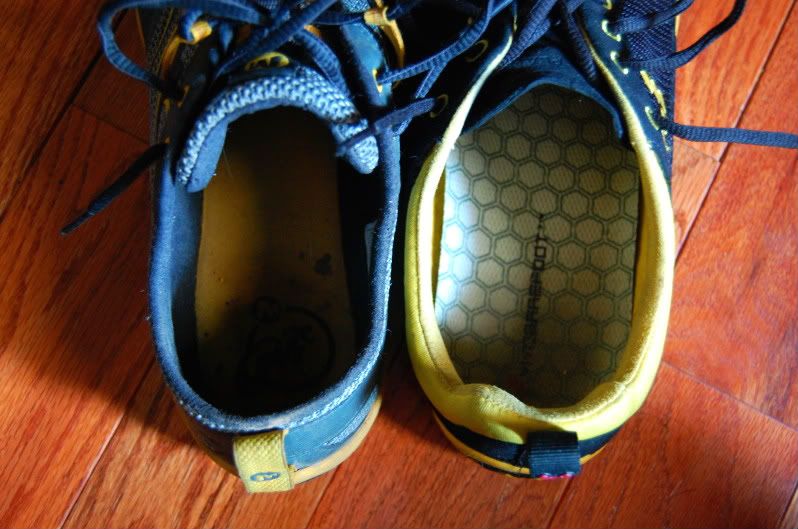 Check out that gaping heel width! (Neo vs. Merrell Trail Glove on the Left) I was quite surprised at how snug and comfortable the shoe was when all laced up considering how wide it appears.
The super low, padded heel collar is quite comfy with its microfiber interior lining. This is one of my favorite features of this shoe.







Smooth as butter.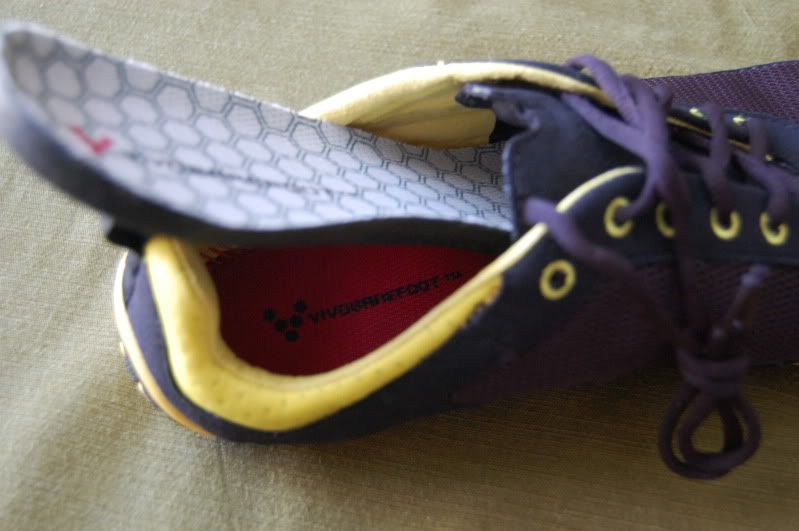 Removable insole for maximum feedback. I prefer mine with the insole in.
On the Road
Once again, my main basis of comparison for the Neo is completely barefoot, so that must be understood in order to make sense of my upcoming critique. The Neo gives excellent feedback of a running surface, but it is a few steps from being as "in touch" as my Vibram Sprints. This is not necessarily all that much of a detriment if you prefer less-than-pristine running surfaces and actually makes the Neo an excellent light trail shoe.
Aaahhh! Shoes that fit this well are surprisingly quite difficult to find.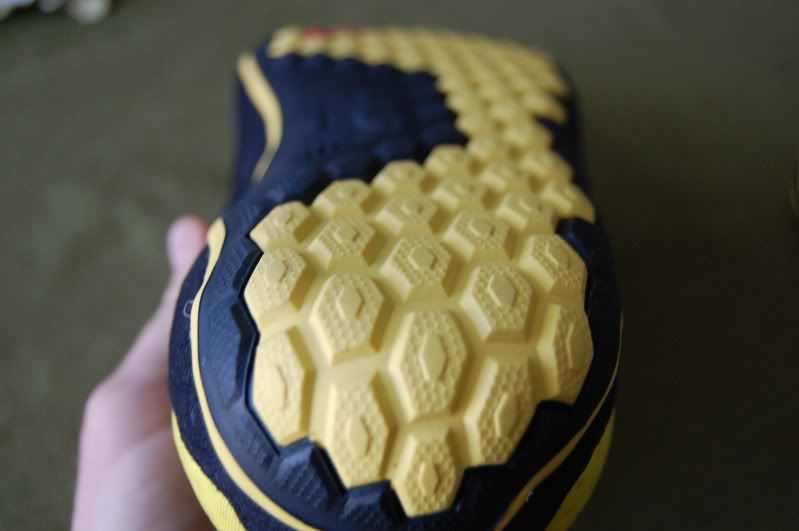 For the track-shun! :)
After settling into my form on the first run in the Neos, which takes me about the first half mile, I felt like I had never experienced running so naturally in a closed-toe shoe. These dudes feel amazing on the road. However, it wasn't long at all until I noticed what would become my first major gripe: weight. The Neos weigh in at just over 9 oz. a piece per my kitchen scale (size 45 in funky euro sizing). That doesn't sound like much unless you are comparing it to the typical zero ounces I have to carry. The fact is, though, that the Neos are heavy by minimalist shoe standards. My Merrell Barefoot Trail Gloves are two ounces lighter a piece. My VFF Sprints weigh just above half of the Neos. This is a big "X" in the minus column for the Neos for most minimalist runners, I am sure. The weight nowhere near kills the usefulness or enjoyment of shoe for me, though. I actually found myself running faster in these shoes on my first run than I ever have in shoes before which definitely says something about my comfort level in them. At least that's all I know to contribute it to. I also found myself running quite frequently in the Neos without socks, something I rarely had done before. This is one thing VIVOBAREFOOT got very, very right. The interior is seamless and plush all the way to the toes which is more than I can say for any shoe I own. Heck, it's more than I can say for any shoe I have ever tried on!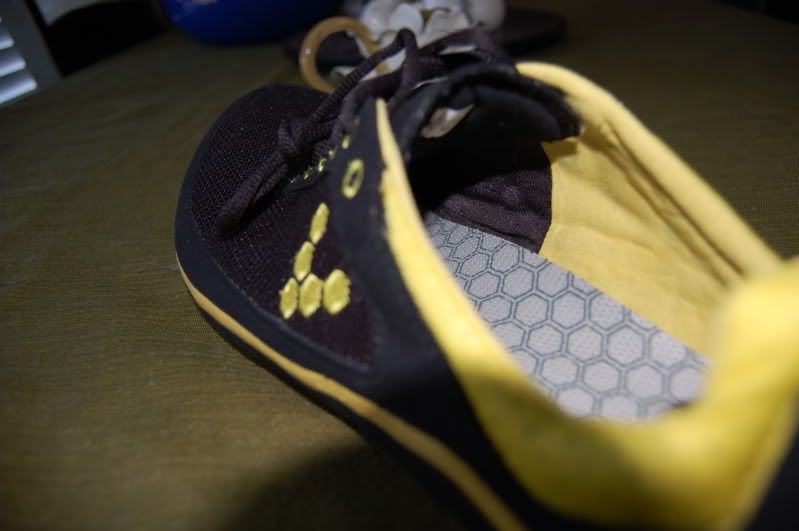 The interior of this shoe is without a doubt the smoothest, softest, most seamless I have ever put my foot into.
On The Trail
My third or fourth run in the Neos was at a local trail that is pretty gnarly - lots of roots and tons of heavy gravel - not ideal for a minimal road shoe. I bravely struck out upon the trail and found the Neo to be surprisingly very capable. The tread was quite adequate for the try trail maintaining good traction on the uphill portions, and the sole is not so thin that any rock landing is painful or even overly uncomfortable. I tried the Neos on the trail back-to-back with my Merrells for comparison purposes and found the difference between the two not quite as signficant as I had imagined. The rock plate in the Merrells made them much more forgiving of missteps, but the Neos performed far better than I would have expected. For a predominantly dirt trail, I would probably prefer the Neos.
To sum up my experience with the Neos to this point, would give the shoe a solid 8.5 out of a possible 10. The weight cost them a point and the lacing weirdness another 1/2 point. The cost didn't really hurt my overall ranking Look below for a specific breakdown.
Criteria Rankings - Here I hope to cover any area I may not have mentioned specifically above. 10 is highest, of course. This takes into consideration the intended purpose of the shoe.
#1: Width/Toe box – 10/10 - The widest I've ever worn. If it were any wider, it would be overboard. It's perfection.
#2: Flatness – 10/10 - Zero drop, baby!
#3: Ground Feel – 8.5/10 - Excellent ground feel - perfect for a "do-it-all" shoe.
#4: Weight – 6/10 - It's heavy for a minimalist shoe.
#5: Durability – 9.5/10 - Almost no visible wear so far.
#6: Flexibility – 8/10 - Perfect for a multi-purpose shoe
#7: Attractiveness – 9/10 - I want a pair in each colorway!
#8: Price – 6.5/10 - Compared to its minimalist competition, the Neo is pricey. But you get a lot of shoe for your money.
Other Considerations – mild toe spring (not a good thing, but not a huge deal for me), superb sockless comfort, good ventilation, lacing/ease of adjustment could be better, versatility is great.
Verdict - The VIVOBAREFOOT Neo is an incredibly capable and versatile minimalist shoe that is only held back by its weight. If you want the Swiss Army Knife of minimalist shoes, this is definitely it.
A few bonus pics: