By that I mean I have very specific criteria for choosing shoes that I am willing to wear regularly for running or otherwise. Obviously being a barefoot runner affects my perception of what is acceptable in a shoe. The closer a shoe is to being barefoot, the better for me.... for the most part.
Where would Al Bundy's "God Shoes" rank? Hard to say without trying them on, but they don't look very light or flexible. They would certainly fail the "low key" portion of the appearance test.



Here, in order of importance, are the criteria I use when choosing a shoe:
1)
Toe box – The forefoot on a shoe has to be fairly wide for me to even consider wearing it. This eliminates the vast majority of traditional running shoes right off the bat. Toe splay is vital for running comfort for me making the toe box the #1 consideration when buying a shoe. Luckily this is a criteria I can test quickly and easily by simply trying on a shoe before I buy it.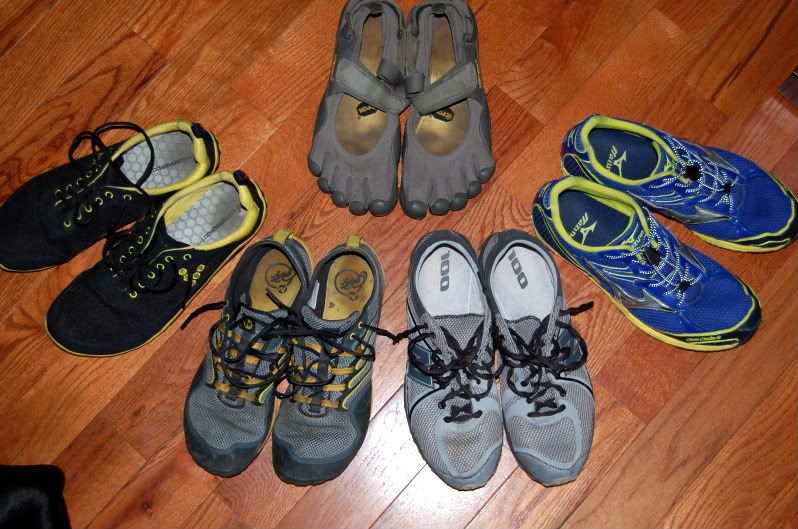 My shoe stable in rank of width of toe box from left to right. The Vibram Sprint is in a separate class for obvious reasons. L to R: VIVOBAREFOOT Neo, Merrell Trail Glove, NewBalance MT100, Mizuno Wave Musha 2.
The Neo toe box is WAY wider than the Musha or MT100. Notice the difference in shape among the three.
2)
Support – I want my shoes flat. Period. Arch support, medial posts, torsion beams and leaf springs (okay, maybe those come on an automobile, but I get all that garbage mixed up)… get that crap outta there! The less shoe in terms of structure, the better. If a shoe has arch support in it at all, I cannot wear it without cursing under my breath.
Ranked from left to right in regarding criterion 2. Same ranking applies to criterion 3. Pay no attention to my running partner. He refused to move.
3)
Cushion/Ground Feel – I don't desire any padding in my shoes whatsoever, but I can deal with a little. My Mizuno Wave Musha 2s are considered a "racing flat," which one would think would make them fairly firm. I have not found this to be the case; the more I run barefoot the softer the shoes feel to me, but I can still put up with it. Padding in shoes makes me feel a bit like I'm running on sand. I presume what is happening is the padding is absorbing whatever forces are being exerting preventing energy return. The result is lower-leg fatigue and a general "blah" feeling. I prefer a shoe to be firm with as little between me and the ground as is necessary for its intended purpose (obviously more protection is needed for trails and the like). The relationship of ground feel and padding is, in my experience, an inverse one. More padding equals less ground feel. I like ground feel/proprioceptive feedback because it greatly impacts my running form, therefore I have another reason to dislike padding in a shoe.
Guess which one provides the better proprioceptive feedback. /sarcasm. Being low profile doesn't necessarily mean a shoe automatically provides decent ground feel, but it's impossible to with a bunch of cushioning.
4)
Weight – The lighter, the better. Running primarily barefoot makes shoe weight very noticeable. This is likely something most traditional runners don't give too much consideration to, but for a barefoot/minimalist runner a couple ounces in a shoe can be the difference between acceptable and unbearable.
Lightest to heaviest, from left to right.
5)
Durability – I don't play the whole "Replace them every 300 miles" game. If a shoe isn't going to last, I'm not going to spend may hard-earned money on it. Luckily, minimalists don't have to worry about deterioration of cushioning or support in a shoe. If the sole and upper stay together and hole free, they're good to go!
6)
Flexibility – A shoe has to move with my foot in order for me to be comfortable in it. Most minimalist shoes currently on the market get this part right, or at least right enough for me to wear them without discomfort. As a general rule, the more flexible, the better. If a shoe fits and flexes like a sock, I would say that is ideal.
7)
Attractiveness – Toe shoes look goofy. There, I said it. That doesn't mean I won't wear them or don't own a pair (I do: Vibram Fivefingers Sprint) because they work, but I prefer to not garner unnecessary attention when I run. Unfortunately, running barefoot has essentially the same effect as crazy-looking shoes; it's actually probably worse barefoot, but it's worth the tradeoff for me. When you run shoeless, people tend to think that you're doing it for reasons other than attention whoring because they view barefooting as uncomfortable or challenging. Furthermore, I prefer my shoes to be something I can wear casually with shorts or blue jeans in addition to just running in them. I like to get the most out of my $$$.
** Price – Self explanatory. I budget my money and use it wisely. I also shop for running shoes and gear almost exclusively at Runningwarehouse.com. They are very often the cheapest option with free shipping and return shipping. Plus the selection is awesome, and their sales are great.
Other Considerations in no particular order - toe spring (not a good thing), sockless comfort, ventilation, lacing/ease of adjustment, versatility.
If a shoe maxes out all those criteria then I'm happier than a pig in slop - except when I can actually go barefoot. All of my upcoming shoe reviews should be viewed through the scope of these criteria. I may give a score for each item or something of that nature. Maybe your specific criteria are entirely different than mine which is completely understandable if you are not a barefoot runner, so you can account for that in your consideration of my shoe ratings.