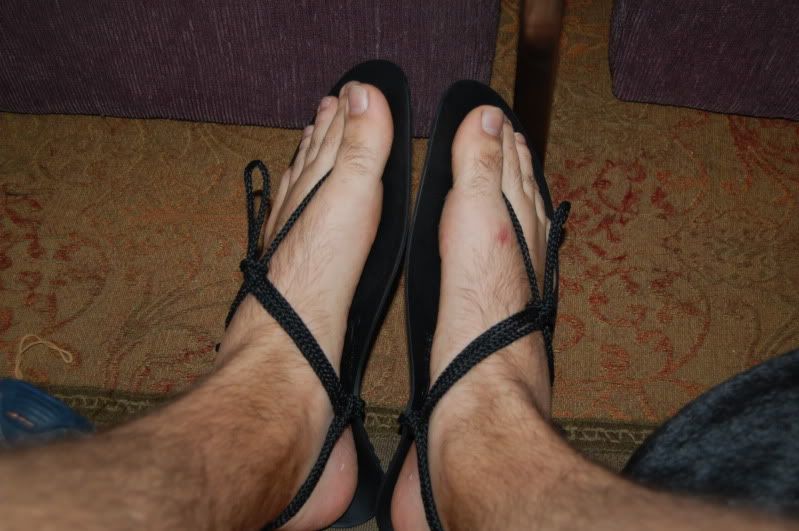 My feet. Yeah, they're hairy. Leave me alone.
Long before the currently-booming shoe industry was formed, well-in advance of the creation of the modern running shoe, people ran.... a lot. The fact that many millions of human beings throughout history have run significant distances on daily bases for basic survival without assistance from the likes of Nike and Asics may be appalling and fascinating to some, but it is an historical fact we Earthlings can be quite ingenuitive when the conditions call for it. If we are to believe Plato when he said, "Necessity is the mother of invention," then the people who invented huaraches needed protection from harsh terrain that their God-given, fleshy foot pads simply couldn't provide. Likewise, Steven Sashen, entrepreneurial jack-of-all-trades and creator of Invisible Shoes, DIY heaven for minimalist sandal nuts, saw a need to re-create the huarache sandal to meet modern necessity.
Disclosure about huarache sandals for those who may be new to them: I am new to huaraches, too. This, my first pair, has been quite a learning experience for me. After having essentially created my own pair of shoes, though, I feel like the A-Team's cobbler! Steven Sashen calls that feeling, "The world can blow apart, but if it does, I can make shoes!"
In the interest of openness, let me officially inform you that Steven provided these sandals to me free of charge so I could write a review. I assure you that my assessment is as objective as an person's can be. Feel free to contact me regarding any point of the review that you feel needs clarification.
Initial Impressions
Until recently, huaraches have been primarily made through taking Vibram cherry (or similar) shoe re-soling material and running some leather or nylon straps through them in various and sundry ways to the heart's content of the end user. Well, the essence of that formula has changed in a few small ways, but the subtle changes that have been made are significant. The new FeelTrue huarache sole material from Invisible Shoes is leaps and bounds ahead of the old Vibram Cherry - which, Sashen explains on their website, was intended for an entirely different purpose altogether. The new 4mm FeelTrue footbed holds its shape better, feels nicer underfoot due to the cross hatching on top, is more durable, and is just better suited for this particular application. I agree.
The shoe is ordered in either DIY form (just an outsole within 1.5 sizes of your foot length with pre-drilled ankle lace holes and a set of laces for each), or in a pre-laced, pre-trimmed fashion. Get the DIY setup. You'll feel better about it when all is said and done.
The shoes arrive in an envelope because there really is not much to them. I'll let the pics tell the story:
What's this I see?! I love getting stuff in the mail, btw!


Fresh outta the box. I received two pairs of footbeds and two pairs of laces from Invisible Shoes. The second pair was the 6mm version of the FeelTrue footbed: the Contact model. I will review these in a later post.
The FeelTrue Connect foot bed. You can see the semi-anatomical shape and the (brilliantly thoughtful) pre-drilled side holes.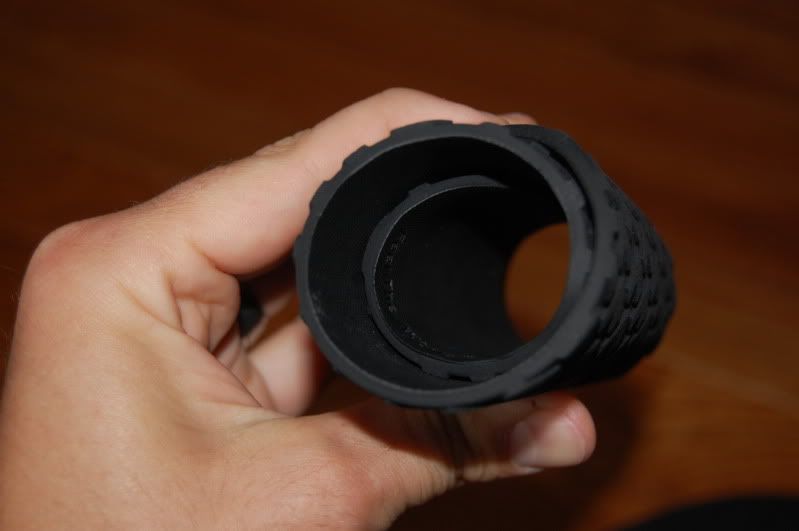 Flexible? Uh, yeah.
Thread detail.
Very nice, professional touches like this one, in addition to better durability, comfort, and user-friendliness, set this outsole apart from the former top choice: Vibram Cherry.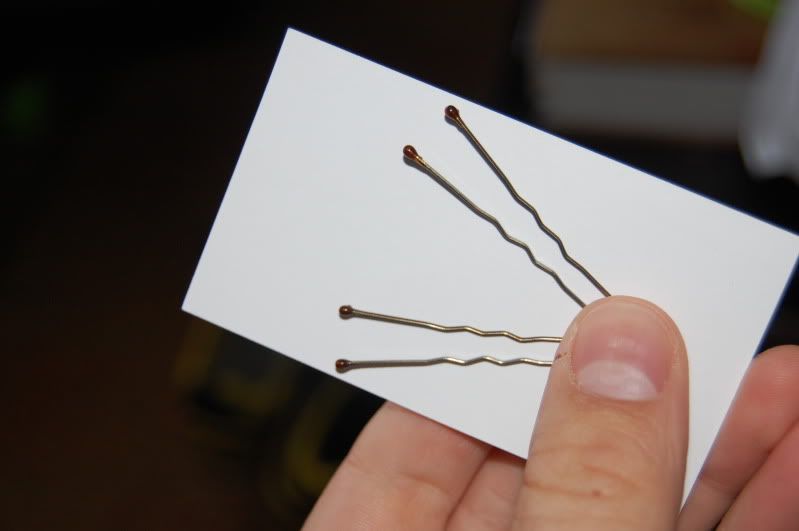 Safety pins? Yessir! These came in quite handy when it was time to thread the straps or laces or whatever you want to call them. I actually found them 100% necessary and would have struggled without them.
Checking out the size. Perfect!
Instructions that come with these huaraches say to make a mark between your first and second toe and use a punch to make the third and final whole necessary for your laces. I didn't have a punch, but and 8mm bit is the second best thing! Warning: Do not use scissors! They make a slit, not a hole, which can continue to grow and ruin your outsole. :(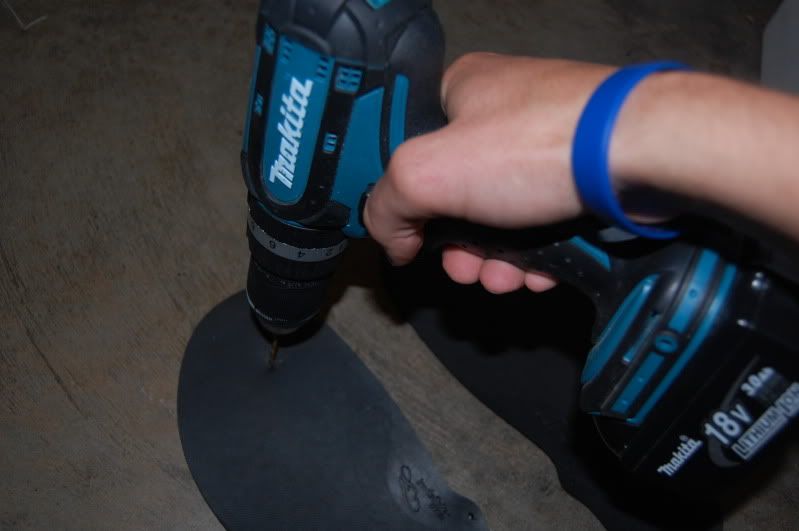 Yeah, I'm handy like that.
Clean.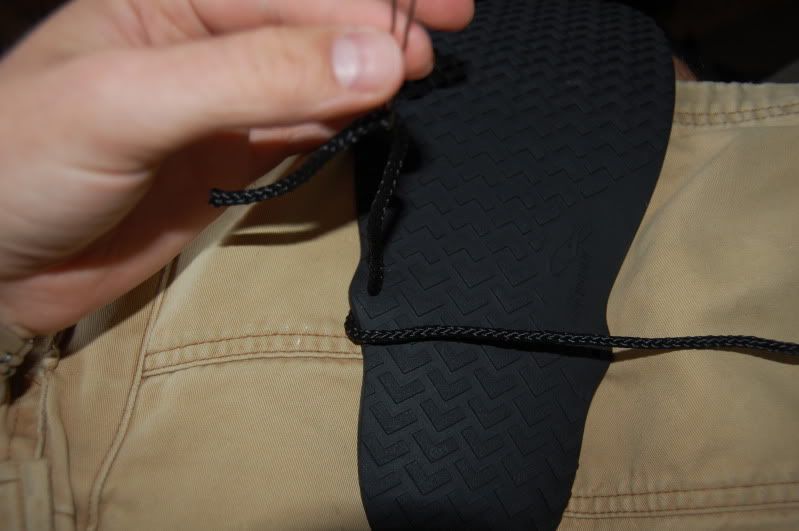 One of many hilarious failed attempts to correctly lace my huaraches. You start with knotting below the front hole. Watch the abundance of videos on InvisibleShoes.com for detailed instruction.
First Fit
Huaraches can be fun, but they can also be aggravating. You may get lucky with your huaraches and wind up with a 100% perfect fit the very first time you tie them up, but that has not been my experience. You may really have to experiment and tweak the fit of this sandal several times over the course of a few days before it fits right for you. There are literally dozens of tying methods for huaraches as you can see from clicking the "Tying" tab at the top of the Invisible Shoes home page, so there are nearly endless possibilities for how you want your huaraches to look and feel.
Before trimming and obviously after tying.
Definitely an interesting look that may not be for everyone, but for lightweight comfort they can't be beat!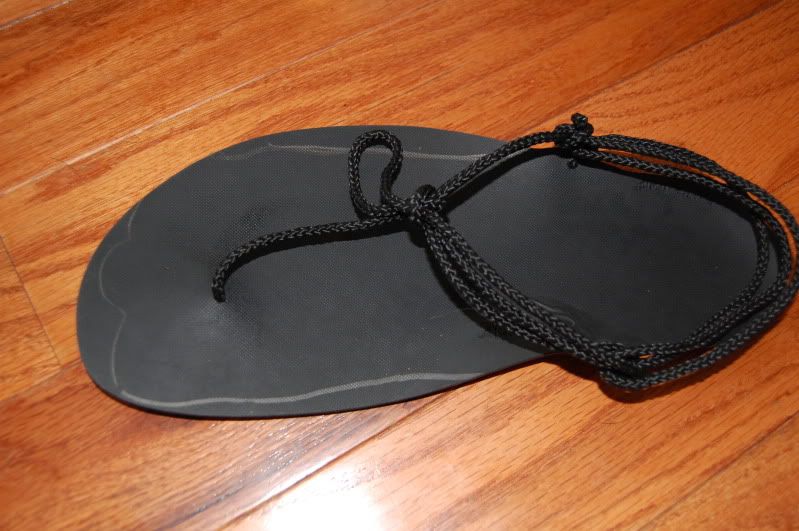 Marked for trimming.
My weapon of choice. Washable just in case I get some marker on my feet.
Untrimmed on the right, trimmed on the left.
An illustration of about how much material I trimmed from the FeelTrue footbed. You can see that I didn't follow the contour of my toes very tightly to allow for a bit of shifting and splay without ground contact.
The main focus of my huarache wear is running, particularly running in the unbearable heat of the Summer months when each foot's contact with the pavement threatens to take my first few layers of skin with it.
On The Road:
I have spent a whole lot of time in my Invisible Shoes in the last few weeks. They are hard not to like due to their simplicity. That may be a taste thing, but to me function beats form every day and twice on Sunday. I laced them
in the uber-user-friendly "slip on" style. I recommend this to everyone as your first try at lacing; you can't really go wrong if you're looking for ease of use.
Wearing the shoe casually is fantastic. I totally expected the laces to be a bit uncomfortable or awkward due to their thinness, but you get used to them after about 15 seconds of walking around. They don't attract nearly the level of attention that Fivefingers do, either, which is a good thing.
While running, the FeelTrue Connect is just enough protection to keep one's feet from abrasions and burns on rough, hot concrete but still thin and supple enough to provide the kind of proprioception that is unparalleled in any shoe I have worn before. Obviously, ventilation is spectacular, and I barely feel like there is any shoe on my feet at all once I get going. The only real drawback I have encountered is the noise these puppies make on the ground. No matter how hard I tried and how many ways I adjusted, tightened, and loosened the laces, I couldn't get rid of that "slap" whenever my foot would contact the ground. I did ultimately find the perfect adjustment that made the sound quiet and unobtrusive enough to be bearable, but I was never able to completely eliminate it. This may be a problem for some runners. It may be an important note that I am a midfoot striker who can run %100 silently and comfortably on concrete and pavement when barefoot, so I don't necessarily buy that the noise is the result of a form problem. However, when I deliberately shift to a forefoot strike while running, the sound certainly seems to lessen. Take that for what it's worth. It's definitely nowhere near a deal breaker for me.
Criteria Rankings - 10 is highest, of course. This takes into consideration the intended purpose of the shoe.
#1: Width/Toe box – 10/10 - Wide as you want it to be!
#2: Flatness – 10/10 - Zero drop, baby!
#3: Ground Feel – 9/10 - Excellent ground feel. Basically the closest I have every felt short of being completely barefoot. Socks would be a 9.5/10.
#4: Weight – 9/10 - Mine weigh in at a dainty four ounces on our kitchen scale
.
#5: Durability – 10/10 - No visible wear so far.
#6: Flexibility – 10/10 - It just doesn't get any more flexible.
#7: Attractiveness – 7/10 - They are not for everyone, but the are leaps and bounds more socially acceptable and low-key than toe shoes. Different lacing options can help alleviate the "feminine" look, but they are still thin-laced sandals.
#8: Price – 10/10 - At $24.95 for the adult FeelTrue 4mm Connect DIY outsole and laces (and pins! lol), this is a minimalist shoe with a minimalist price. You can opt to have them pre-trimmed and lace for you for a $39.95, but honestly! What fun is that?
Other Considerations – Lacing/ease of adjustment can be a challenge, especially early on, but if you endure you are rewarded nicely.


Verdict -
If you want the least possible shoe on your foot to be socially acceptable or to provide just a tad of protection from rough or hot pavement, you should look no further than Invisible Shoes. These are my go-to casual and running footwear for the Summer.
Update: Invisible Shoe is now
Xero Shoes
!